The Cost of Eating Well
Every year, we visit 12 local grocery stores to determine the cost of eating well using the Nutritious Food Basket.
In 2022, the monthly cost of following Canada's Food Guide for a family of four in our district was $1,125.
Year after year, results show it is very difficult, in some cases impossible, for low income households to pay for the costs of living, including food.
What is Food Insecurity?
Food insecurity means a household doesn't have enough money to buy food.
It can range from worrying about running out of food, to filling up on cheaper, less nutritious foods, to skipping meals or going without eating.
The root cause of food insecurity is poverty.
It's a serious public health problem.
1 in 5 households in Ontario experience food insecurity.
Living with food insecurity can lead to higher risk of many chronic health issues in adults, such as:
diabetes
heart disease
chronic pain
poor oral health
depression
anxiety
It's hard to manage chronic conditions without enough money for food.
Children are also at greater risk for health problems, particularly mental health problems that can last into adulthood.
It's an income problem.
The lower the household income, the more likely a household is to live with food insecurity.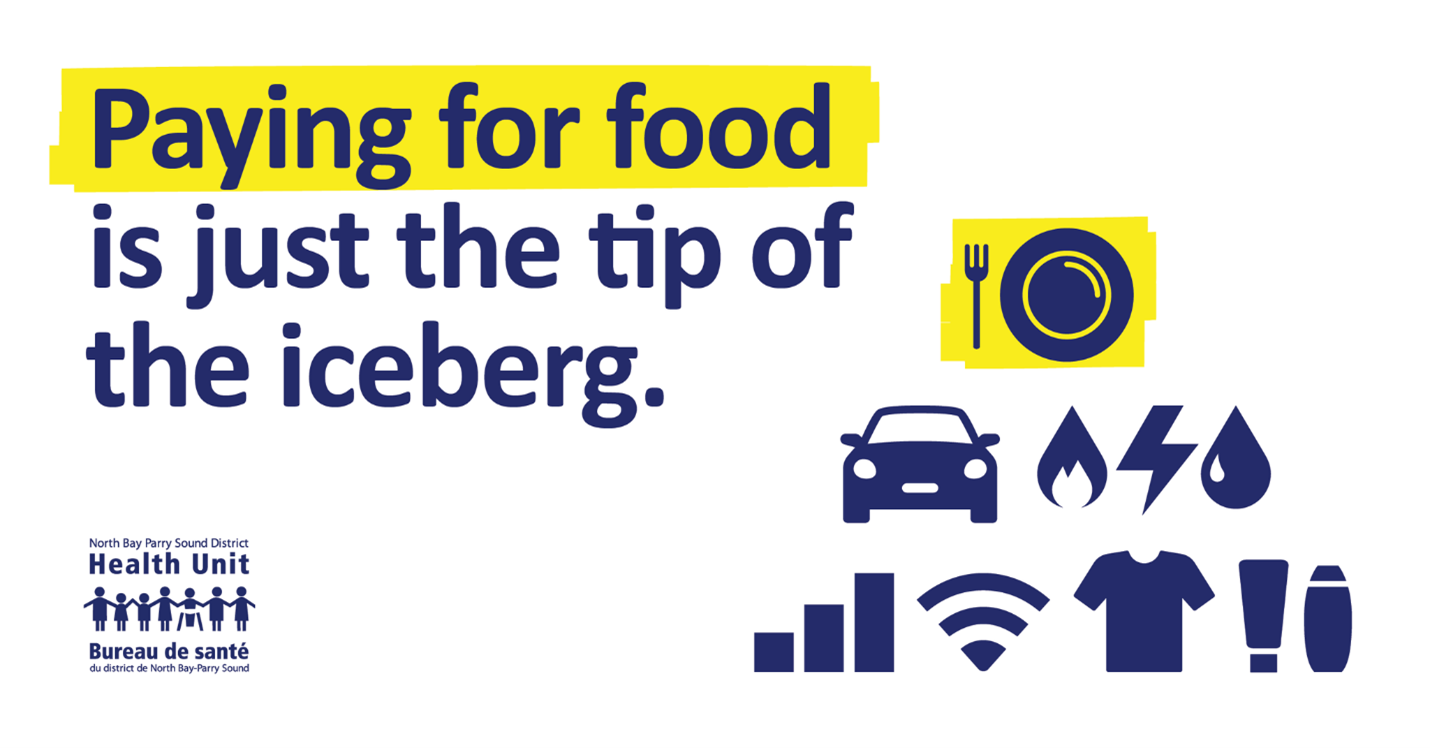 Households who struggle to pay for food, also struggle to pay for the other costs of living.
The compromises food-insecure households make because they don't have enough money, include, but go far beyond, food-related decisions. These households spend less on food and the other costs of living such as housing and transportation than food secure households.
People with employment
About 50% of food insecure households have income from employment.
Due to low wages, part time hours, and lack of benefits, having a job doesn't always provide enough money for the costs of living, including food.
People receiving social assistance
About 67% of people receiving social assistance are food insecure. They are also much more likely to live with severe food insecurity, which is associated with the most the greatest risk of poor health.
2022 Income Scenarios
These scenarios show the cost of eating well and local rent rates, compared with various household types and sources of income.
Food-based programs do not reduce food insecurity because it is an income problem much bigger than just food.
Taking Action
What You Can Do
Share this information about food insecurity and help break down myths about people living in poverty.
Food Insecurity Key Messages for Social Media
Social media images:
Talk to local decision-makers about income policy solutions, like:
• higher social assistance rates
• more secure job opportunities with benefits
• reducing taxes for lowest income households
Can't find the words? A customizable letter template is available.
Governments make decisions that affect income. Learn about party platforms and vote for candidates that best align with your values.
What We Do
At the Health Unit, we're involved in ongoing public health advocacy. Below are some examples our advocacy efforts about the need for income solutions to reduce food insecurity in Ontario.