Visit A Cut Above The Roast for video recipes.
These quick and easy recipes are not only delicious but they also follow the recommendations of Canada's Food Guide.
Chicken Fajitas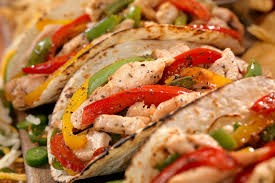 Ingredients:
2 Tbsp. vegetable oil
4 chicken breasts, skinless, boneless
3 bell peppers, red, yellow, green, sliced
1 medium onion, sliced
Seasoning
1 tsp cumin powder
3 tsp chili powder
2 tsp paprika
¼ tsp cayenne, optional
1 tsp garlic powder, or minced garlic
Salt and pepper to taste
To serve
6 whole wheat tortillas
Lime, wedges
Fresh cilantro, chopped – optional
Sour cream – optional
Directions:
In a mixing bowl, add all fajita seasoning ingredients and mix well.
On a work surface, cut chicken breasts, onions and peppers into less than ½ inch strips.
Plan a pan over high heat and add 1 Tbsp. vegetable oil.
When the pan is hot, add chicken and half of the fajita seasoning. Avoid chicken from overlapping. Stirring occasionally, until the chicken is cooked through, about 5-6 minutes. Once cooked, remove the chicken strips to a plate and cover them in foil to keep warm.
In the same skillet, add another tablespoon of oil. As soon as the oil is hot, add the bell pepper and onion slices. Add the rest of the fajita seasoning and sauté until crisp-tender. Add the chicken back to the skillet and stir to combine. Then remove from the heat and drizzle with fresh lime juice.
Heat the tortillas up in the microwave.
Spoon the chicken, peppers and onions into the hot tortillas. Squeeze lime juice and garnish with optional cilantro and sour cream.
Recipe adapted from: https://www.canada.ca/en/health-canada/services/canada-food-guide/tips-healthy-eating/meal-planning-cooking-healthy-choices/recipes/easy-beef-fajitas-with-lime-sour-cream.html
Thai Salad with Peanut Dressing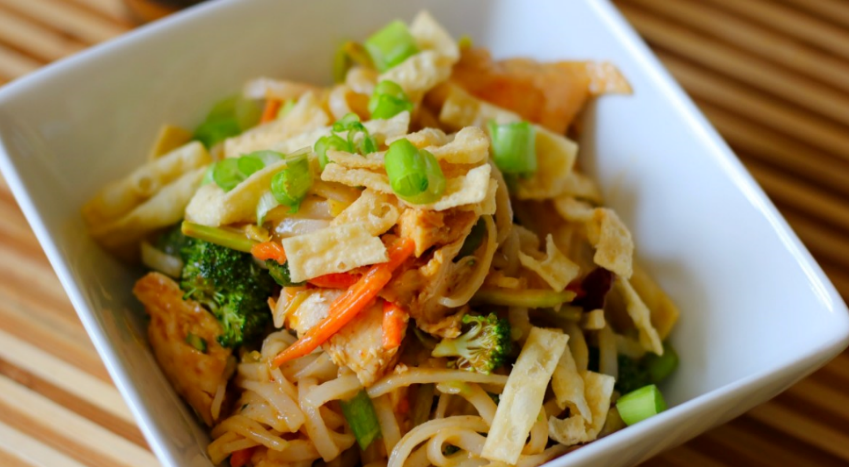 Ingredients:

2 Cups cabbage, shredded
½ Cup carrots, julienned
½ Cup broccoli florets
½ Cup chickpeas, drained and rinsed
50 g Rice noodles
Green onion to sprinkled on top
Tortilla strips sprinkled on top
Peanut Sauce
½ Cup creamy peanut butter
2-3 Tbsp. soy sauce
¼ tsp red pepper chili flakes
¼ Cup water to thin
1 Tbsp. Maple syrup
Directions:
Bring a pot of water to a boil and cook rice noodles according to package directions.
Bring a second pot of water to a boil and steam broccoli for ~5 minutes until tender.
Combine peanut sauce ingredients.
Shred cabbage and carrots if not already pre-shredded.
Assemble salad; layer the rice noodles, shredded cabbage and carrots, broccoli, chickpeas, and top with peanut sauce, tortilla strips and green onion.
Recipe adapted from: https://nekianichelle.com/diy-buddha-satay-bowl-copycat-freshii-recipe/
These pantry-friendly recipes call for either shelf stable ingredients or frozen foods. This may be helpful for those who are not able to get to the grocery store often, or those who prefer to shop less often.
Recipes
Meal Ideas
Baked Goods and Snacks