Local COVID-19 Data
Local COVID-19 data is updated on our COVID-19 Status Report Dashboard at 3 p.m. on Wednesdays, with the exception of outbreak information, which is updated Mondays, Wednesdays and Fridays at 3 p.m.
Watch our Status Report Dashboard Tutorial
As of Nov. 14, 2022, the North Bay Regional Health Centre's Assessment Centre is no longer offering COVID-19 testing (with a few exceptions), making for a visible decrease in the reported number of people testing positive. We acknowledge that our case counts continue to be an underestimation of the true number of people with COVID-19 in our district.
Living with COVID-19
Some people are at greater risk of infection and severe outcomes from COVID-19 than others. Learning to live with COVID-19 means we all must be mindful about our actions, activities, and the risk to ourselves and those around us.

Who is at risk of severe outcomes from COVID-19?
Adult residents of long-term care homes, retirement homes, elder care lodges, and other congregate living settings for seniors of these with complex medical care needs
Individuals aged 65 years and older
Individuals aged 55 years and older and who identify as First Nations, Métis or Inuit and their non-Indigenous household members aged 55 years and older.
Individuals aged 18 years and older with moderately to severely immunocompromising conditions
Pregnant individuals
What can you do?

1. Get vaccinated and, if eligible, boosted.
Vaccination is the best protection against severe illness from COVID-19. We are still providing first, second and booster doses to everyone who is eligible. Learn more.

3. Be COVID-Kind and respect others' decisions.
Everyone has a different comfort level and a different level of risk. Consider carrying a face covering with you. There may be times when others will ask you to mask up, or times when wearing a face covering can help you feel more comfortable around people who are not wearing a face covering. To learn more, see our Face Covering Decision Guide.
4. Stick with the basics.
Cough and sneeze into your sleeve. Continue to wash/sanitize your hands often, and avoid sharing utensils, straws, etc. Increase ventilation by opening windows.
5. Do a personal risk assessment.
Consider:
personal health risks
health risks of household members
employment in highest-risk settings
the type of environment (e.g. a small, indoor, poorly ventilated crowded room versus an open outdoor location with a few people)
the type of activity
Face Coverings (Masks)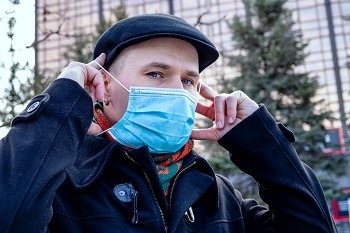 COVID-19 is spread through contact with the respiratory droplets of an infected person when they cough, sneeze, or even when they laugh or speak - even if they don't have symptoms.
When worn properly over your mouth, nose and chin, face coverings help prevent droplets from your mouth and nose from reaching others or landing on surfaces. They're an inexpensive, acceptable, and non-invasive measure to help control the spread of COVID-19 and other respiratory illnesses.
There are a number of factors you should consider as you make the decision whether or not wear a face covering. Act based on your own risk assessment and what makes you feel safest - and remember, it's okay not to put yourself in situations where you feel uncomfortable.
Face Covering Decision Guide
When deciding whether to wear a face covering, some questions to ask yourself include:
Am I entering a location where face coverings are still required*?
*Face coverings are still required at long-term care and retirement homes. Other settings, such as hospitals, congregate care/living settings, shelters and jails may have their own face covering mandate in place.
Yes – Wear a face covering.

No – Continue to next question
Am I going to be around someone who is immunocompromised?
Yes – Consider wearing a face covering
No – Continue to next question
I'm immunocompromised - It is recommended that you continue to wear a face covering in public. Feel free to also ask your visiting friends for family members to wear a face covering when with you.
Within the past 10 days, have I tested positive for COVID-19 or experienced symptoms of COVID-19?
Yes - You are required to wear a well-fitting mask in all public spaces (including school and child care, unless under 2 years old) and avoid non-essential activities where mask removal is necessary (for example: dining out, playing high-contact sports, playing a wind instrument)
No - Continue to next question.
Do I feel uncomfortable being in close contact with people I do not know while out in public, such as to grocery stores, shopping etc.?
Yes – Consider wearing a face covering

No – That's okay, too. Face coverings are no longer mandated.
Face coverings should be worn if you are recovering from COVID-19, have symptoms of the virus or are a close contact of someone with COVID-19. Refer to our COVID Guide for specifics.