See the Person. Be Kind. Everyone has a story.
Homelessness is a complex issue with serious impacts on individuals and communities. Negative attitudes and stereotypes, or stigma, linked with homelessness hurt our communities.
See the Person is a campaign to reduce stigma associated with homelessness. It continues to be a relevant message in our communities today.
Check out the infographic from the evaluation results after running the campaign in late 2021: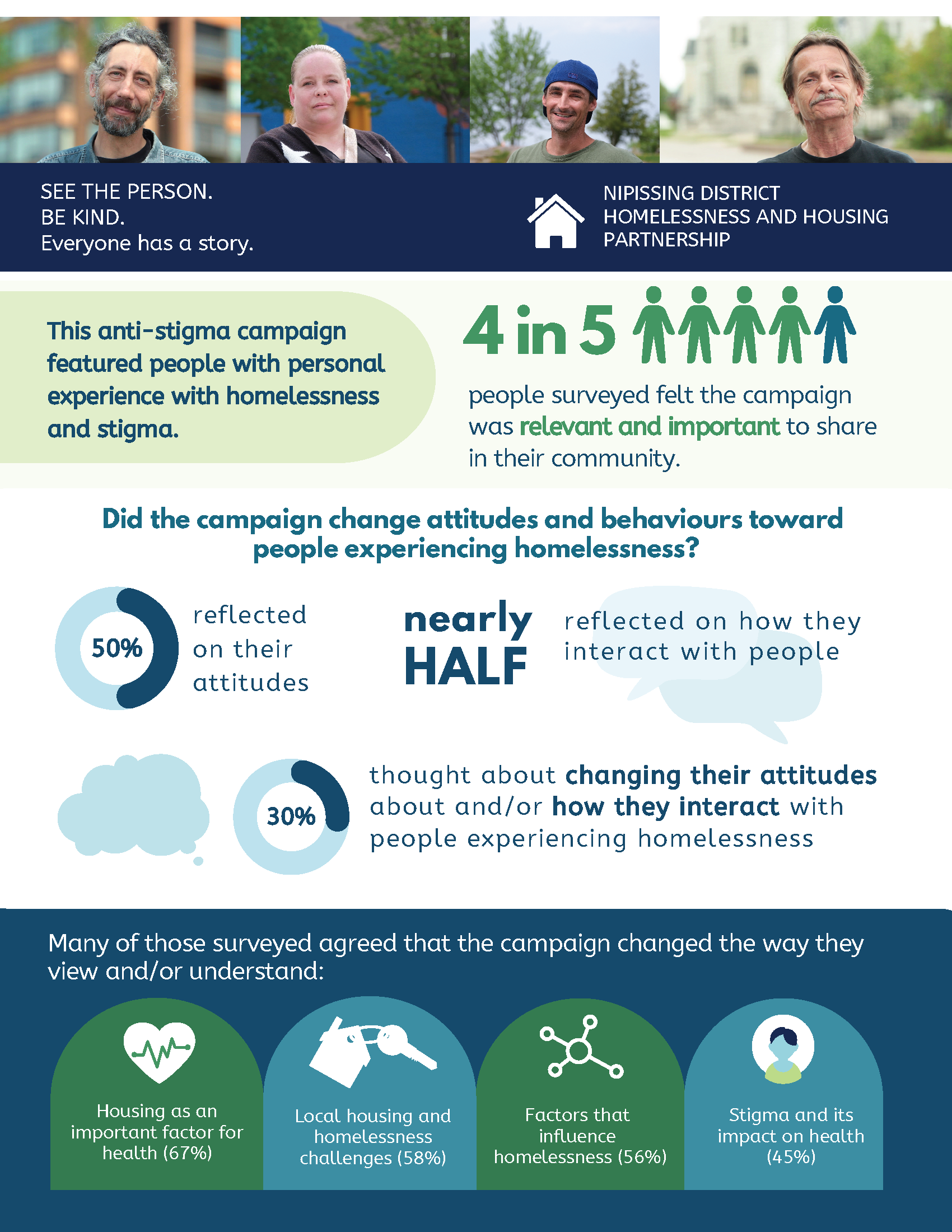 Learn about:
Local people who have been through homelessness have this message for our communities.
Special thanks to the people that shared their stories as part of this initiative.
Be part of the solution
There are actions you can take today to reduce stigma and homelessness through compassion, education, and advocacy.
Compassion
Everyday acts of kindness and treating people with respect and dignity reduces stigma
See the person and be kind
Use de-stigmatizing language such as "person experiencing homelessness"
Show your support for the See the Person Campaign by sharing the Facebook and Twitter posts
Reach out to a health or social service in your community and ask how you can help. Your skills, volunteer time, or a donation of goods may be needed.
Education
Virtual presentations:
organizations or businesses with 20 or more members may request a 30- minute presentation with the Nipissing District Homelessness and Housing Partnership's Anti-Stigma Work Group by emailing tawnia.healy@healthunit.ca
Read more about homelessness and housing by visiting trusted sources such as:
Advocacy
Talk to your local MP, MPP, municipal council, or a municipal councillor about:
homelessness and housing issues in your community;
housing as a human right in Canada; and
policy solutions like improved access to housing that is affordable or housing for all, higher social assistance rates, more secure job opportunities with benefits, and a guaranteed basic income.
Vote. Governments at all levels make decisions that affect housing and income. Learn about party platforms or municipal candidates, and vote for the candidate that best aligns with your values.
This campaign was developed by Nipissing District Homelessness and Housing Partnership.