What is gambling?
Gambling is when you bet something of value on an outcome of an event, with the desire to win something of more value. You don't know if you will win or lose.
Examples of gambling:
lottery tickets and raffles
scratch tickets and instant games
slot machines
bingo
online or in-person casino games
playing cards or dice for money
sports betting or pools
betting with friends
All forms of gambling contain an element of luck. Slot machines, for example, require no skill and are solely based on luck, whereas table games, such as poker or blackjack, require a degree of skill, as well as luck.
Many people believe inaccurate information about gambling and odds. Gambling is not a moneymaker and it is far less likely that you will win big than you may think.
Being informed is important for safe gambling.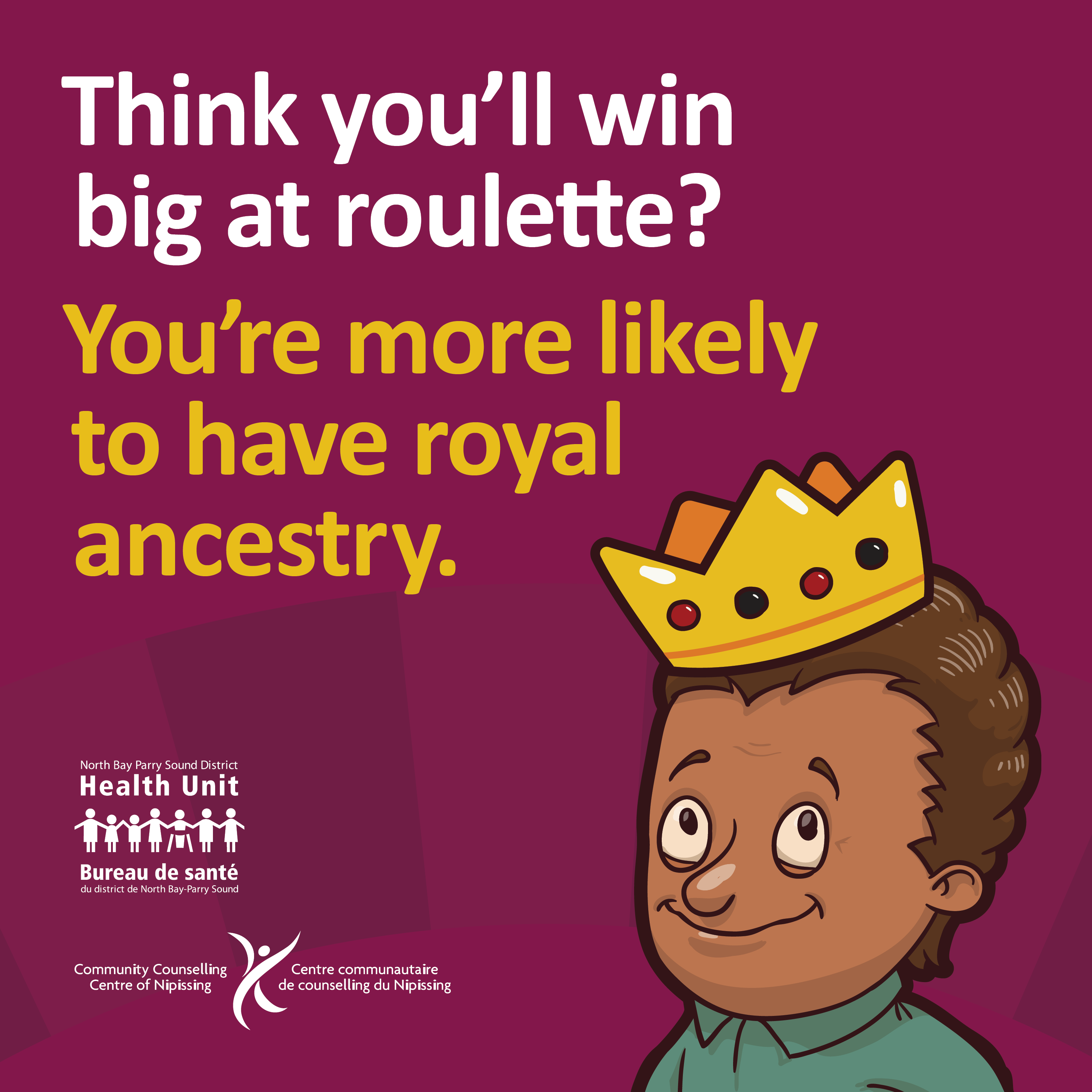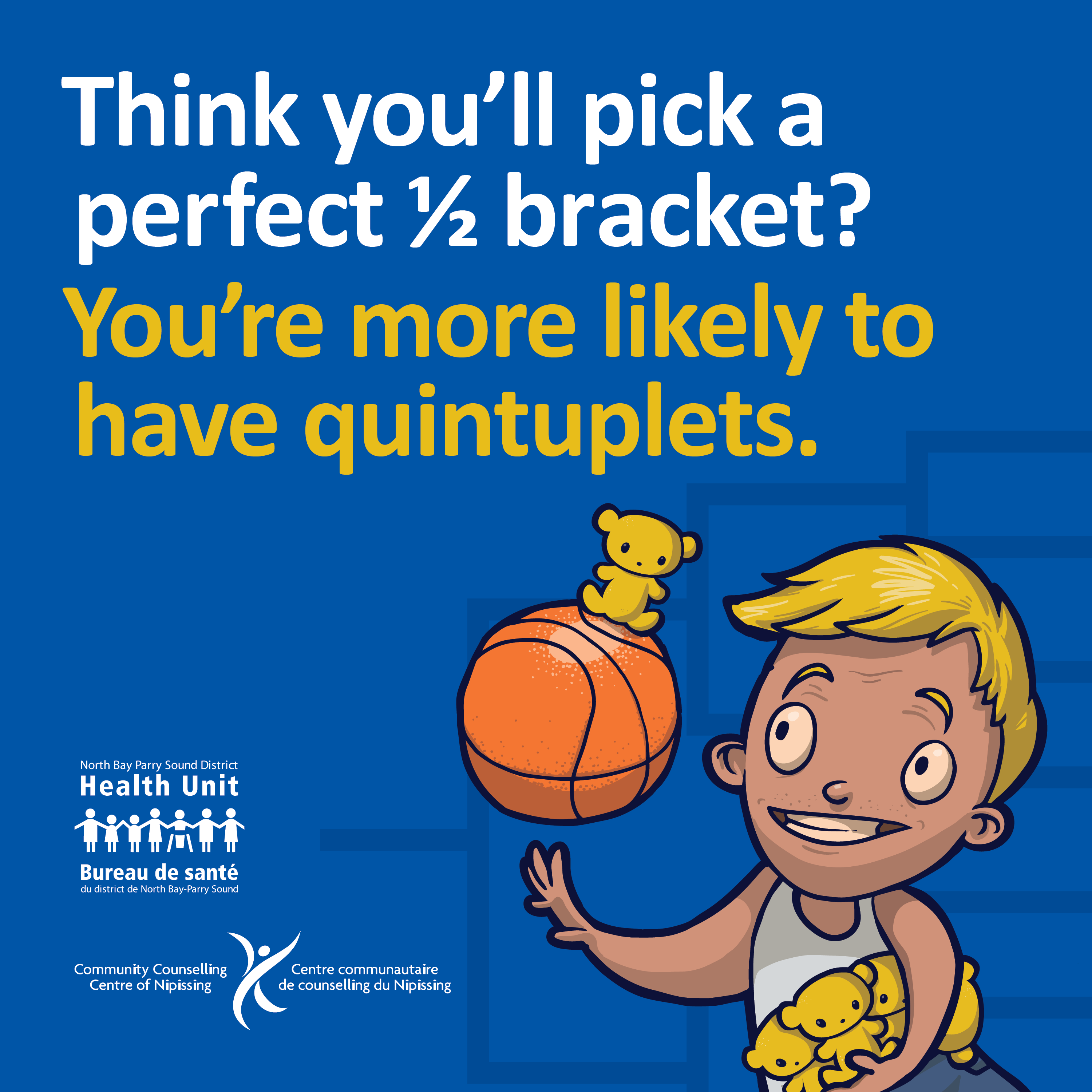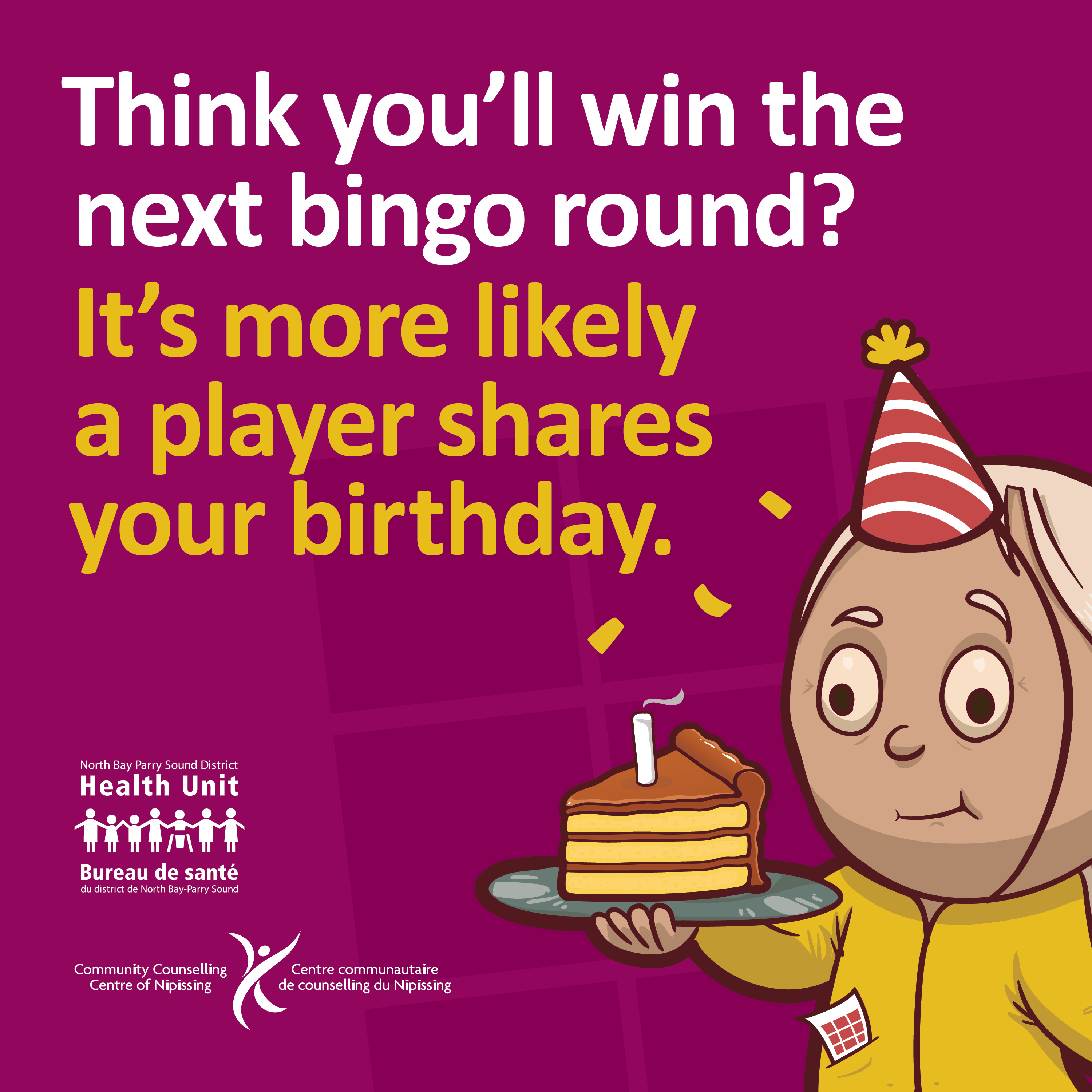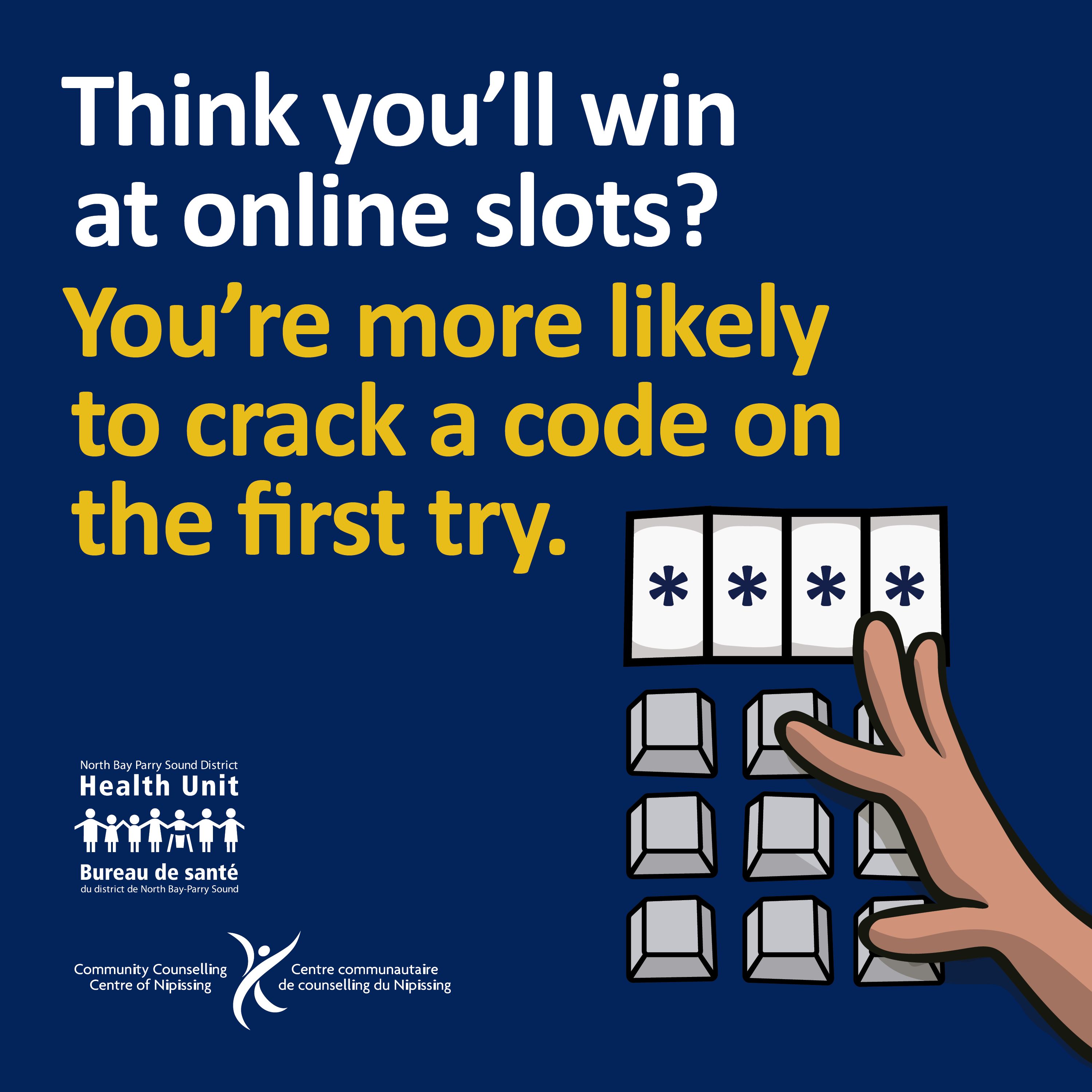 The Health Unit would like to thank Dr. Jeffery Rosenthal, Professor of Statistics at the University of Toronto for assisting with the comparative odds included in this campaign. Dr. Rosenthal is the author of Struck by Lightning: The Curious Work of Probabilities and Knock on Wood: Luck, Chance, and the Meaning of Everything.
This campaign is done in collaboration with the Community Counselling Centre of Nipissing.
What is problem gambling?
Gambling for fun is not a problem, but gambling becomes a problem when it causes problems.
Problem gambling happens when a person starts to lose control of their gambling behaviour. Gambling becomes a kind of obsession, and is no longer fun. When this happens, a person and their loved ones can experience serious harms and consequences related to finances, work, relationships, as well as mental and physical health.
People of all ages, income levels, backgrounds and cultures can be affected by problem gambling. Problem gambling can happen suddenly or over the course of many years. It can develop for a number of different reasons with many factors, such as difficult life circumstances or trying to win back money lost.
Risk Factors for Problem Gambling
Certain factors can make a person more at risk of problem gambling, such as:
gambling at a young age
a previous big win
problem gambling in the family
holding misconceptions about the odds of winning
easy access to gambling
cultural gambling norms
impulsive or risk-taking behaviour tendencies
a history of mental health issues, such as depression, anxiety or substance use
a lack of knowledge about gambling
positive attitudes towards gambling
a stressful life event (e.g., divorce, retirement, job loss or a loved one's death)
Signs of problem gambling
Using gambling as a way to cope with stress, spending more money than you can afford, and keeping gambling behaviour a secret are a few signs that problem gambling may be occurring. Problem gambling will look different for each person, so CAMH put together a long list of potential signs, click on the link below:
If you think you or someone you know may be experiencing negative impacts of gambling, this short quiz by CAMH will help you understand if gambling is harming your life and where to get help:
http://www.problemgambling.ca/gambling-help/PGSIscreener/Registration.aspx
Do you think gambling might have a negative impact on your life?
This short quiz by CAMH will help you understand if gambling is harming your life and where to get help:
http://www.problemgambling.ca/gambling-help/PGSIscreener/Registration.aspx
Tips for safer gambling
If you gamble, here are tips to help you play safe and lower your risk of gambling harm:
if you gamble, only do it for entertainment
avoid gambling when upset, stressed or in recovery
only bet with money you set aside for entertainment
never borrow money to gamble
set a dollar limit as well as a time limit each time you gamble and stick to these limits

many tools are available to help

learn how the game works before you bet, such as the rules and odds
expect to lose, and treat the money you lose as the cost of entertainment
avoid gambling under the influence of alcohol, cannabis, or other substances
break often

step outside or have something to eat

don't chase losses
avoid thinking of gambling as a way to win money, everyone loses over time
balance gambling with other hobbies and activities
know where to access help
Why do people gamble?
Gambling is a popular form of leisure activity, as most adults engage in gambling at least once in their life. While most people gamble occasionally or not at all, some people gamble more frequently.
Research shows that the main motivation of all gamblers is the desire and hope to win money or something of value. People also gamble as a form of amusement and excitement, to socialize, and to support worthy causes. Gambling can also be a coping mechanism or an emotional escape, which is a common trend amongst people who experience problem gambling habits.
Self-help tools
CAMH
online tool and mobile app to keep track of gambling and urges
interactive tools to help you cut down or stop gambling
quiz to help understand the impact gambling is having on your life
community forum
self-help interactive exercises for family and friends
guides and handbooks for individuals, families, and organizations
Responsible Gambling Council
online tool and mobile app to keep play safer by showing gambling spending
OLG
voluntary program that helps you to take a break from gambling
Where to get help
Below is a list of professional services and tools available to support you:
ConnexOntario: 1-866-531-2600 to find local mental health, addiction, and problem gambling services, available 24/7
Gambler Anonymous - North Bay: 705-497-6431 for more information about the support group for gambling addictions
Research and Campaign Results
Think You'll Win - Evaluation