Parenting is not always easy. It's a skill you learn over time and it changes as your child's age and stage of development. Children don't come with an instruction manual, but help is available.
Are you a new parent? Check out our New Parent Resources.
Sign up for a Health Unit Triple P Parenting Online Course and learn the skills needed to raise healthy children and build stronger family relationships. (Currently on hold.)
Check your child's school newsletters and school website regularly for parent opportunities and events in our community.
Visit the Triple P Ontario website for parenting tips, videos, blogs and check out Triple P programs near you.
There are many parenting resources and service available in your community to support you as a parent. Just to name a few, check out the logos below.
Help is just around the corner. To speak with a Public Health Nurse please call the Family Health Information Line at 705-474-1400 ext. 5351 or email healthy.families@healthunit.ca.
Listen, respond and connect with your child

Your child's relationship with you is key to their health, development, and well-being. Being a warm and responsive parent will help your child develop trust, confidence, self-control, and strong relationships with others.
Listen to your child
Even though babies and toddlers may not have words, they still communicate. Active listening lets your child know that you hear them and care about what they have to say.
Tips for parents:
Look for cues. Babies communicate in many ways, including facial expressions, body actions, and sounds. For example, a baby may look away from you if they are overwhelmed, or suck on their hand when they are hungry.
Be face-to-face with your child. Talk to your child during meals.
Take time to listen and talk when you child is ready to talk.
Respond to your child
When you respond to your child's needs in a warm and loving manner, your child learns that you will be there for them when they need you.
Tips for parents:
Comfort your child when they are sick, hurt, or upset.
Respond with both facial expressions and words. For example: when your baby looks to you, smile back.
Talk to your baby. Speak in a soft and gentle voice.
Show your child love. Showing your child affection like hugs and cuddles will comfort your child and show them that you enjoy their company.
** You cannot spoil a baby or child with love and comfort **
Connect with your child
Spending time with your child, listening to them and showing love and affection will help create a special bond with your child.
Tips for parents:
Read, sing, and talk to your child. This will strengthen your relationship with your baby, and will help your baby's brain grow.
Be present. Limit distractions such as phones, tablets, and television.
Find opportunities to connect. Have fun with your child. Do things you both enjoy like reading, going for a walk or playing outside.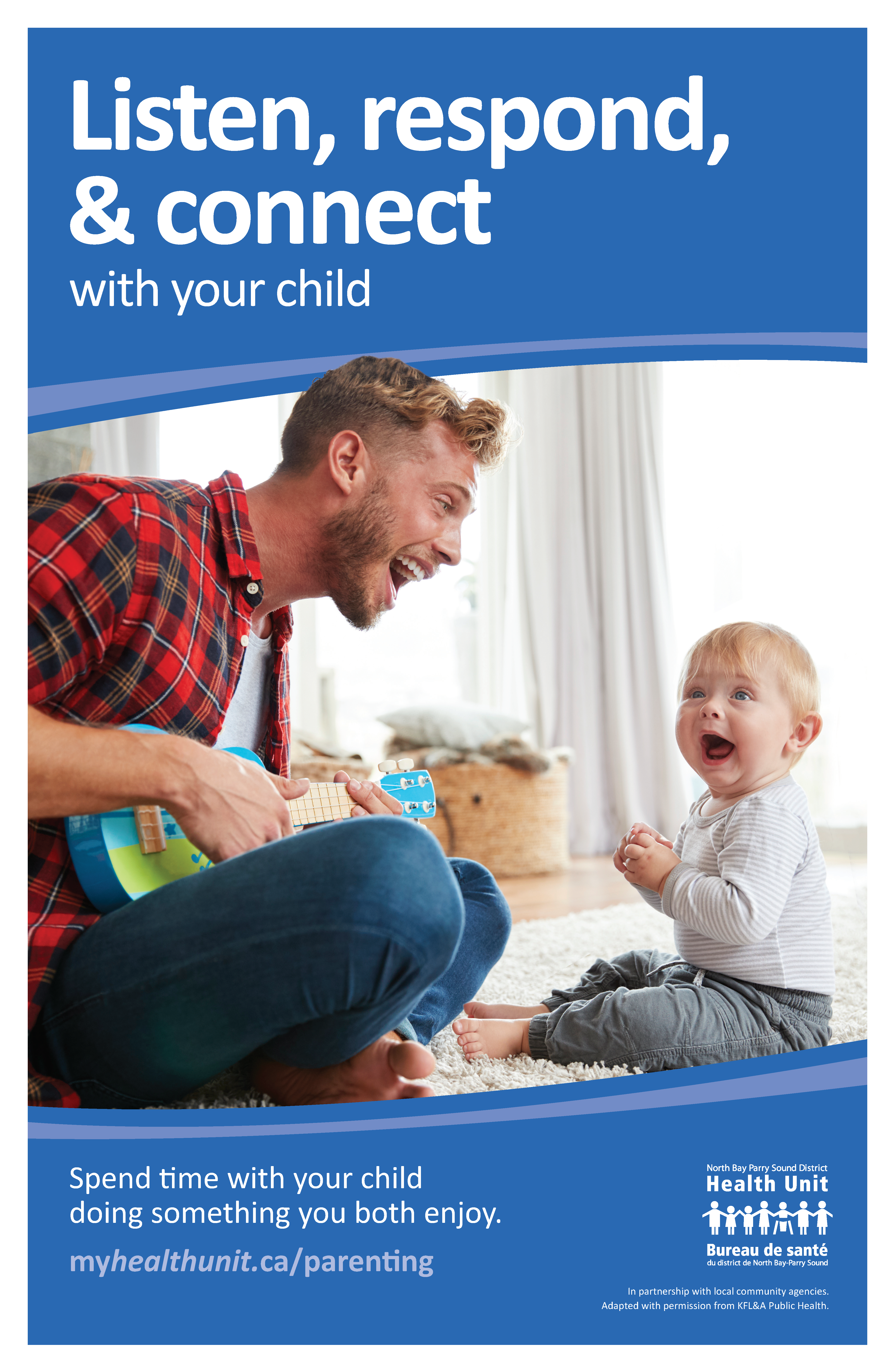 Click to download and print the poster.
Information is adapted from KFL&A Public Health.
All emotions are healthy and important- even negative ones such as anger, frustration, and sadness. As a parent, you can help your child learn to cope with strong emotions.
Help your child recognize their emotions

When children can identify their feelings and work through their emotions, they will be better able to cope with life's ups and downs.
Tips for parents:
Name your child's emotions, for example, "It looks like you are frustrated with that toy."
Give your child the words or signs to ask for what they want or need.
Acknowledge that their emotions are okay, for example, "I know it can be sad when your blocks fall down. I'd be sad too."
Teach your child about other's emotions. Read stories showing pictures of people with different expressions. This helps them learn about their own emotions and helps them learn to cope with new experiences.
Help your child work through their emotions
Children who can recognize, identify and talk about emotions are less likely to reach the point where they act out their strong emotions and disruptive behaviours.
When your child is hungry or tired, it is hard for them to control their feelings.
Make sure your child gets enough sleep and is offered enough healthy food choice.
Tips for parents:
Listen to your child. Give them your full attention and show that you are interested in how they are feeling by facing your child and making eye contact. For example, try saying, "we feel angry sometimes and it's good to talk about those feelings."
Offer choices. Allowing your child to make simple decisions will help build their confidence.
Role model how you cope with emotions. When parents stay calm and positive, they teach their children how to respond to stress.
Teach your child ways to cope with big emotions such as taking deep breaths or slowly counting to five.
After you acknowledge your child's strong emotions, offer activities to focus on such as playing basketball, painting a picture or playing with a family pet.
Hug your child. Let them know you are there for them when they need you.
Role model how to cope with emotions. Staying calm will teach your child how to respond to stressful situation.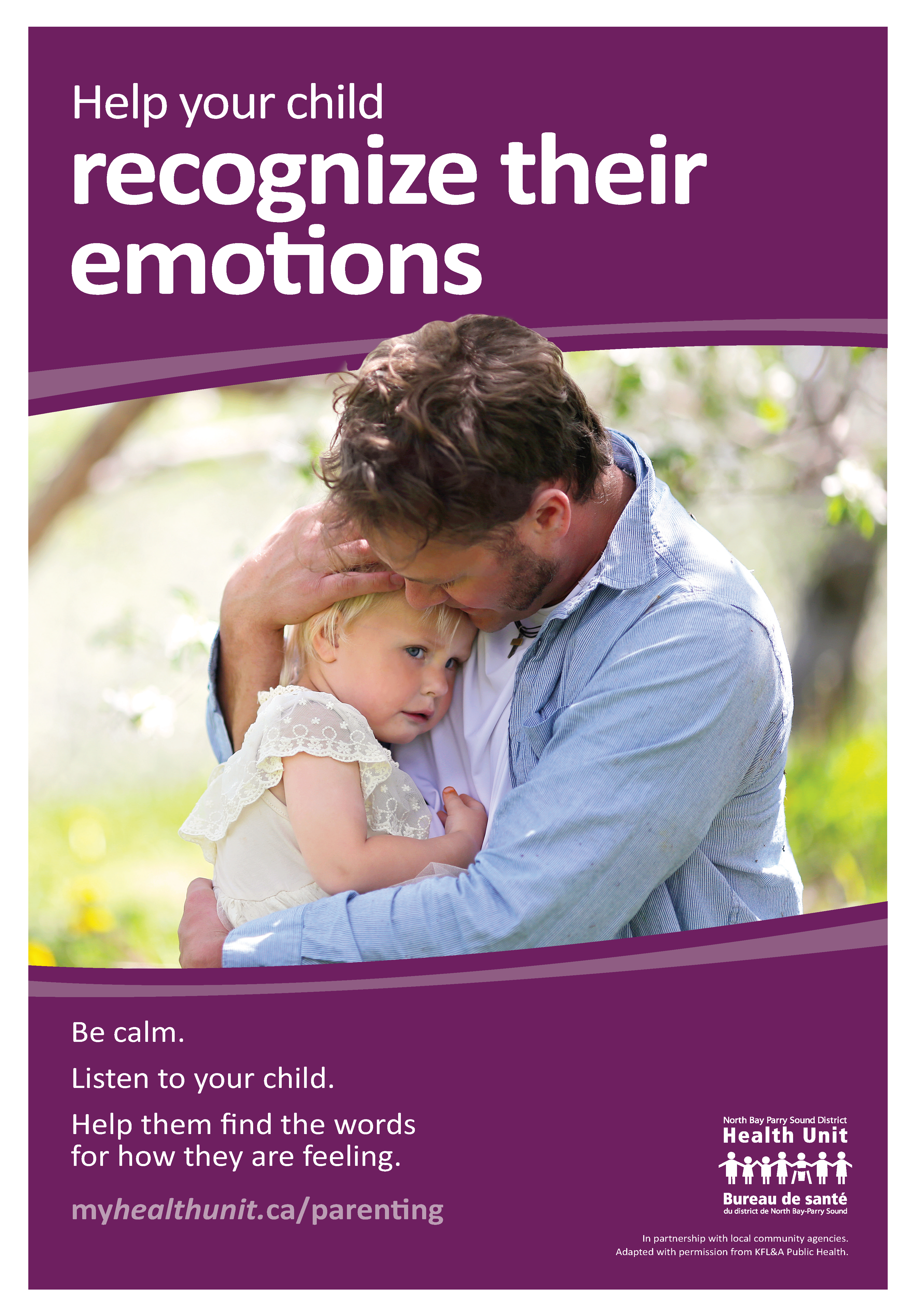 Click to download and print the poster.
Information is adapted from KFL&A Public Health.
Let your child play

Let your child play. Help them grow. Keep them safe.
Parents and caregivers often find it difficult to balance safety and a child's need to move and explore. Children need freedom to play and move so they can learn and grow.
Let your child play
Play helps your child's brain and body grow and thrive. As your child gets older, play, especially free play, is very important. Unstructured play teaches children decision-making, problem-solving, and self-confidence.
Tips for parents:
Play with all of your child's senses. Incorporate sound, touch, and colour into your play.
Have fun with your child. Get on the floor and be silly with your child.
Play and laugh together.
Help your child grow
Children need routines, sleep, healthy foods, and lots of time for physical activity to grow strong and healthy.
Tips for parents:
Create a routine. Having a routine helps children feel their world is predictable and safe.
Avoid screens. Screen time is not recommended for children under 2 years of age.
Offer healthy food choices.
Provide choices. Whenever possible, give your child options. For example, "Would you like the red cup or the blue cup?" "Do you want to brush your teeth before or after your bath?"
Keep your child safe
Keeping your child safe is a top priority. Supervision is important and will change as your child grows and develops.
Tips for parents:
Provide supervision as needed to prevent injuries to your child.
Once your child is older, encourage safe risks. Encourage children to take safe risks by providing opportunities to participate in activities that are adventurous but safe, such as wearing a helmet when learning to ride a bike.
Do not spank. Spanking can teach children that hitting is okay, and cause them to distrust their parents and others.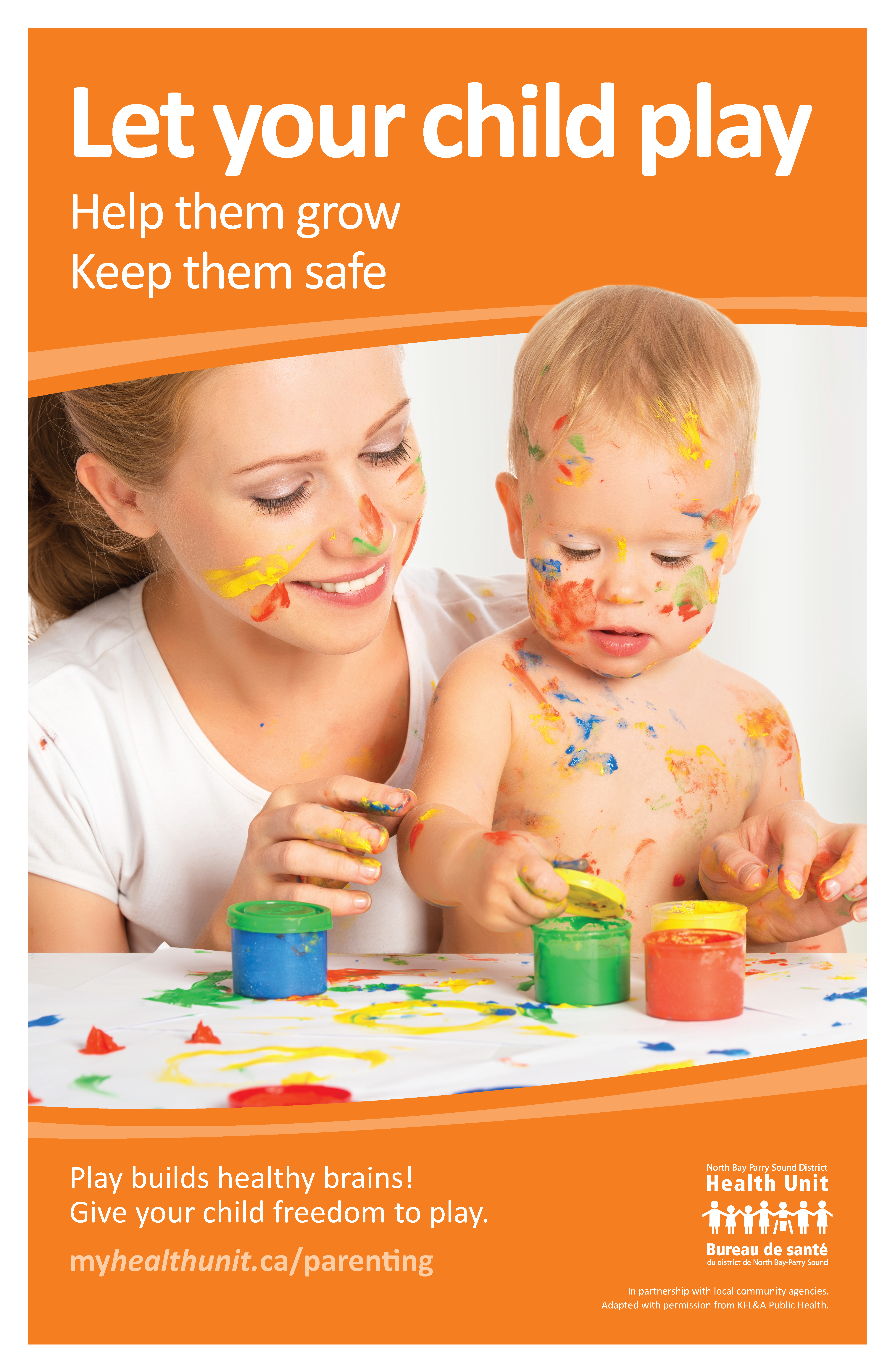 Click to download and print the poster.
Information is adapted from KFL&A Public Health.
Take care of yourself

It's okay to take care of yourself. It's part of parenting.
You are a parent, and you are important. Taking care of yourself makes you a better parent. You will have more energy, patience and confidence.
Tips for parents:
Learn to let things go. Crumbs and over flowing laundry are normal when you have small children.
Talk to someone if you have concerns. If you are not feeling yourself, talk to your doctor, your friends or family.
Take care of your relationships. Healthy relationships with friends and partners are important to your mental health.
Make healthy eating and physical activity a priority. Take a family walk in the evening, or cook a family meal while your baby plays beside you.
Reach out for support:
You've probably heard the phrase "it takes a village to raise a child". This is true! It's okay to ask for help from family, friends and your community.
When you find yourself getting overwhelmed, stop and take a big breath. It's best to share your calm instead of joining in your child' chaos.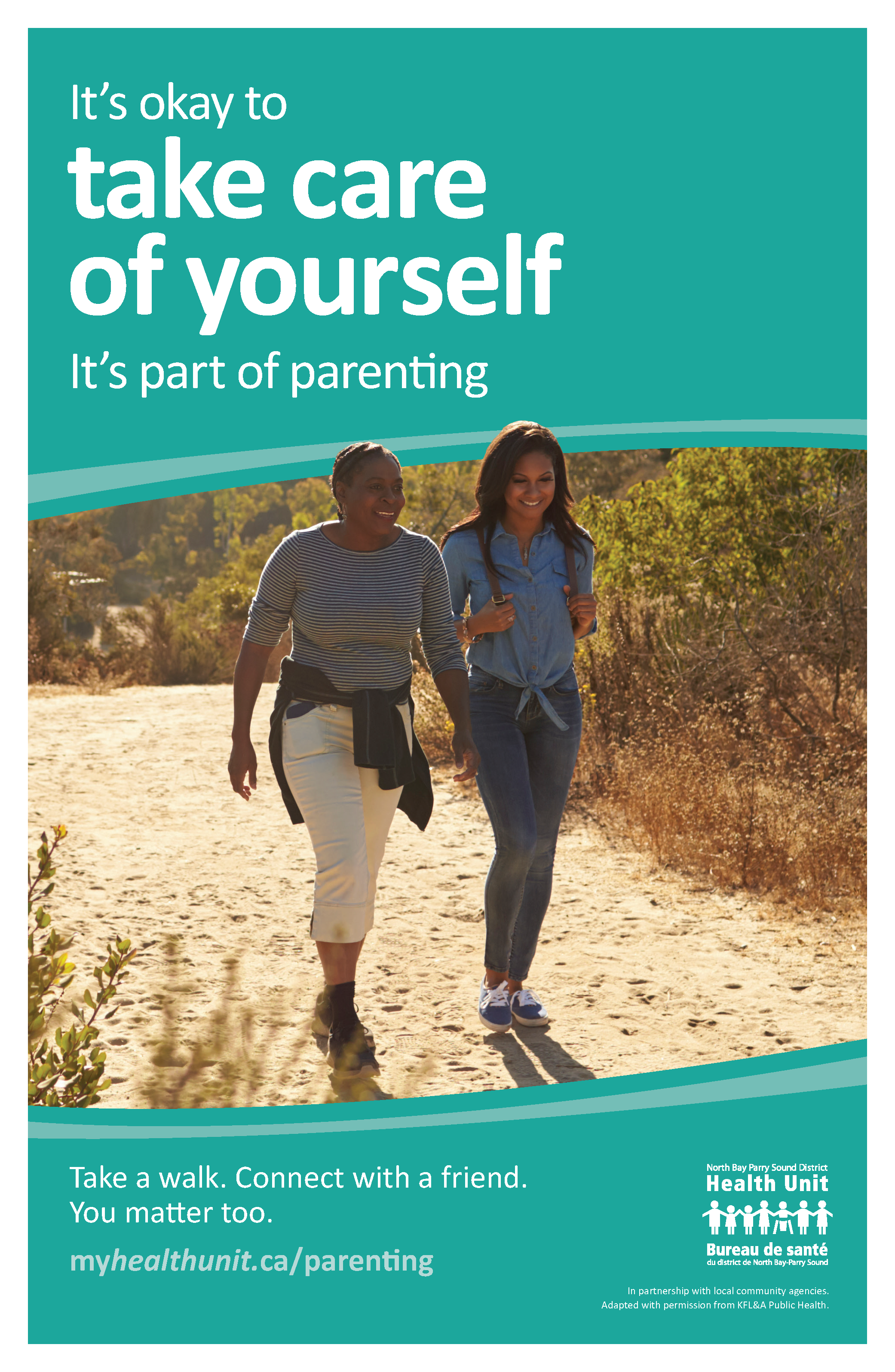 Click to download and print the poster.
Information is adapted from KFL&A Public Health.
Community Partners