---
Does your child need dental care?
The Health Unit Dental Clinic provides dental services to children 17 years and under through the Healthy Smiles Ontario (HSO) program, including:
Teeth cleaning
Check-ups
Dental treatment
Urgent or emergency oral health issues
Cavities and gum disease can be painful and can lead to serious infections, affecting the growth of adult teeth. Pain can result in loss of sleep, affect a child's ability to eat, and can also affect their ability to learn and attend school. As a result, we encourage parents to bring in their children to the Health Unit Dental Clinic if they are eligible to receive the HSO program.
Children are automatically enrolled in the program if:
They receive assistance under Temporary Care Assistance or Assistance for Children with Severe Disabilities.
They or their family receive Ontario Works or the Ontario Disability Support Program (ODSP).
What you need to access the Health Unit Dental Clinic
Do you have this card?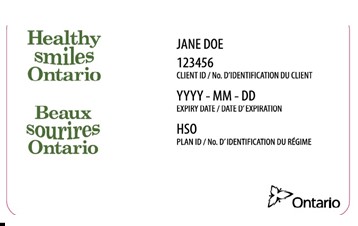 Ontario Works and ODSP families are automatically enrolled in the HSO program. You need this card to demonstrate your enrolment.
Children with non-insured health benefits for Indigenous people also qualify for the Health Unit Dental Clinic. They must present their status card to receive treatment.
For more information, call the Health Unit Dental Clinic at 705-474-1400 or 1-800-563-2808 ext. 5328.