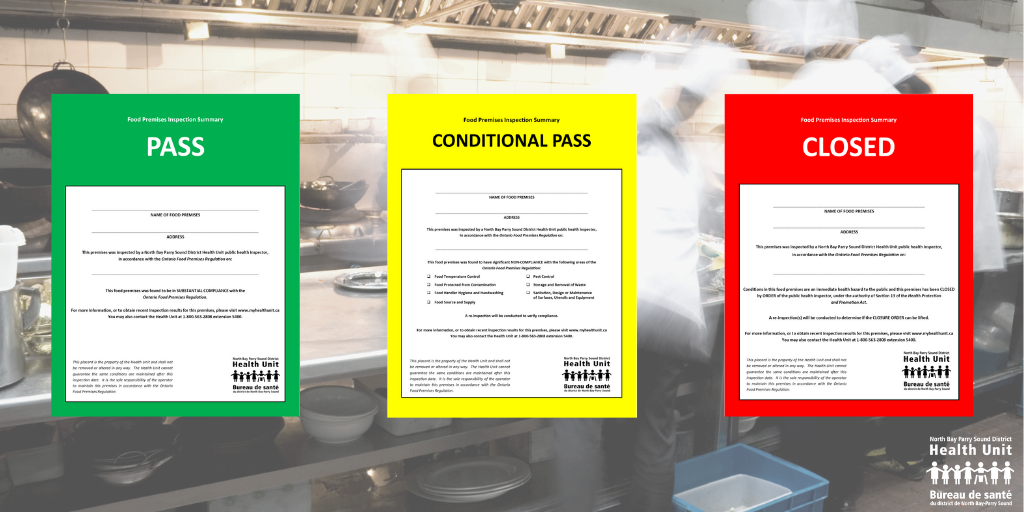 NEWS RELEASE
For immediate release: May 22, 2019
NORTH BAY HEALTH UNIT IMPLEMENTS CHECK&GO!
NORTH BAY, ON - The North Bay Parry Sound District Health Unit (Health Unit) is making it easier for individuals to know a food establishment's inspection results with the implementation of Check&GO!; a colour coded signage program launching June 3, 2019.
Upon completion of a food establishment's inspection by a Public Health Inspector the establishment will receive one of three signs (PASS, CONDITIONAL PASS or CLOSED). The food establishment operator will be expected to post the sign at or near the main public entrance to the establishment, in a location clearly visible to members of the public.
Signage will only be posted at food premises in the Health Unit's region that are inspected on or after June 3, 2019.
"The purpose of Check&Go! is to help individuals make informed decisions to protect their health and to share information about health inspection results," said David Perrault, Senior Public Health Inspector. "When individuals see the sign at a local establishment they know the establishment has been inspected and what the results of the inspection are."
The Health Unit has created a Frequently Asked Questions (FAQ) page to help answer questions that the public may have around food premise inspections and the new signage.
"It is important for individuals to make informed dining decisions. Our FAQ page helps individuals to understand the inspection process in greater detail," said Perrault.
For information on Check&GO! visit myhealthunit.ca/checkandgo or call 1-800-563-2808 ext. 5400.
- 30 -
Media Inquiries
Alex McDermid, Public Relations Specialist
P: 705-474-1400, ext. 5221 or 1-800-563-2808
E: Communications@healthunit.ca